There are a total of 1,810 billionaires on our planet, compared to last year's 1,826. Although the number has taken a dive, they still stand tall – with their riches hailing in success. We take a look at the top ten richest people on the planet.
10. DAVID KOCH
David Koch has donated countless money over his year's of wealth. Being Executive President of Koch Industries, Koch along with brother Charles, take control over their father's 1940's venture of refining oil. Koch clocks in with $42.3 billion. By the end of 2015, Koch had donated over $1 billion!
9. CHARLES KOCH
Charles Koch's wealth rises above his brother David's wealth, clocking in at $42.3 billion, Koch's reign continues growth in numbers. Both himself and his brother took their studies to Massachusetts Institute, allowing them the opportunity to further educational values at high levels.
8. MICHAEL BLOOMBERG
Michael Bloomberg is currently loading $43.5 million as the self-made money striker as the head of Bloomberg LP. He's changed the direction a bit, since 2015. He grabs ahold of the media aspect, which he has since helped boost up his riches by $6.4 billion. If he continues in this direction, he'll push the numbers further.
7. LARRY ELLISON
Larry Ellison is putting Oracle on his back. The only trouble that this self-made guy struggles with, is younger people doing what he does, at a better rate. Still, Ellison brings $48.5 billion in total to his fortune. He took a different route and dropped out of school, which has turned out lovely for him.
6. MARK ZUCKERBERG
The powerful social media that has become Facebook, is credited to Mark Zuckerberg. His $44.6 billion fortune will go towards a lot of good – The co-founder and his wife will donate $3 billion of their fortune to help find a cure for all diseases. Together, their goal is to "advance human potential."
5. JEFF BEZOS
Jeff Bezos' Amazon company has seen tremendous progression over the last twelve months alone. He added $20 billion to his fortune and brings him to a total of $45.2 billion. Obtaining his bachelors degree for arts/science from Princeton University, Bezos is one of the world's most successful businessmen.
4. 
WARREN BUFFET
Warren Buffet's $64.8 billion fortune is thanks to Berkshire and his work with partnering with other companies. Having stakes in Coca-Cola, American Express, and ownership of Geico, Buffet added $3.5 billion to his wealth in 2015. Despite dropping behind other wealthy beings, Buffet's success is still an on-going process.
3. VLADIMIR PUTIN
Russia's Vladimir Putin's estimated net-worth, clocks in at about $70 billion. He served as Russia's Prime Minister, as well as two terms in office, as president. His gas and oil investments has led him to his biggest sources of income.
2. AMANCIO ORTEGA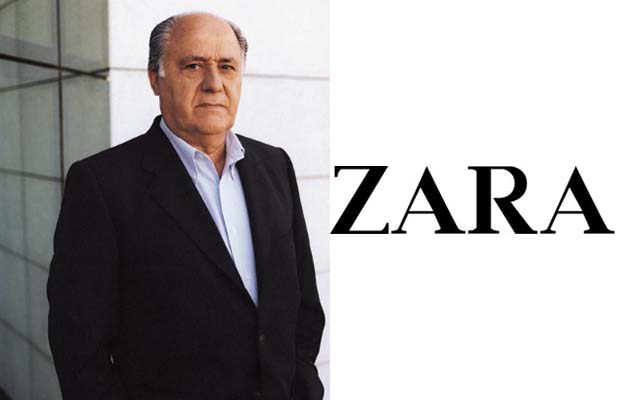 Amancio Ortega is the richest man prospering in Europe. Along with success in Zara, Ortega's $74 billion fortune was spiked by Massimo Dutti and Pull&Bear. He's taken his money and put it into real estate investment; led through Chicago, Europe, Barcelona, London, and more. His investments have earned him a whopping $8 billion.
1. BILL GATES
Bill Gates (to no surprise) tops the list at no. 1. $75 billion builds the wealth portfolio for the world's richest man. Microsoft's run has been amazing through the decades, battling it out with known competitors such as Apple. Along with his Microsoft endeavors, Gate's foundation takes a focus on K-12 education.
Gates has stepped down his position at Microsoft, but still remains a board member. Technology is steadily changing, and he wants to ensure his company is moving in the best possible way.